200,000
+
Professional Visitors
1,500+
Premium Exhibitors
150,000㎡
Exhibition Scale
China Bakery Exhibition (CBE) is an international bakery industry exhibitionjointly organized by All-China Bakery Association (A.C.B.A.) and Guangzhou Sinobake International Exhibition Co., Ltd., which is the pioneer of professional exhibition in China's bakery industry.
The 27th China Bakery Exhibition (CBE) will be held on May 10-12, 2024 at the China Import and Export Fair Complex (Area D+A), Guangzhou, China. The new edition will be expanded and be held in conjunction with HOTELEX, FHC, EXPO FOOD and GIFE. "Breaking the circle of development", is committed to the Chinese food and beverage industry upstream and downstream industry chain enterprises to provide greater information, trade and exchange service platform.

The 27th China Bakery Exhibition
Based in South China, it attracts more than 1,000 exhibitors every year and grasps the pulse of the baking industry through 3 core innovations. At the same time, facing the nationwide large catering market, expanding the industry's incremental market space by embracing the large catering, to the sun, more than just baking!!!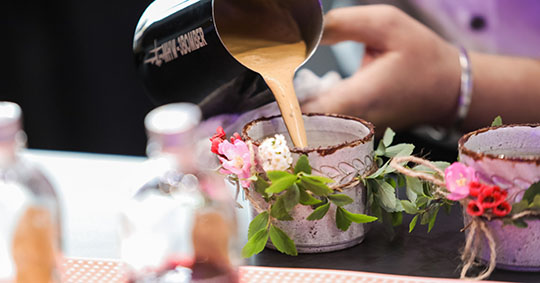 As a vertical supply and demand platform for the hotel and restaurant industry, Food & Beverage Online has accumulated more than 500,000 professional buyers, providing one-stop sourcing services for your business matchmaking with quality and quantity guaranteed at competitive prices. More than 3,000 quality exhibitors are joining us…
Join China Bakery Exhibition
Large platform and professional services: 150,000 square meters of exhibition area, 1,500+ exhibitors, professional exhibitor services, worry-free participation;
Rapid brand dissemination: series of public numbers, jittery voice, microblogging to create a huge media communication matrix;
Rich buyer resources: 200,000+ professional visitors from bakery, catering, tea and beverage, cattle and big names come to the exhibition.
Visit China Bakery Exhibition
Industry trends in one exhibition: a one-step visit to the exhibition, walk in the forefront of the industry;
Fast and direct business docking: face-to-face negotiation with upstream and downstream exhibitors in the industry, and rapid broadening of business relations;
One-stop purchasing: the best and most innovative exhibits, one-stop purchasing, reduce purchasing costs;
Wonderful on-site activities: 10+ forums, summits, theme activities, brainstorming, insight into the industry's future trends.